Please note: Due to constant attempts by spambots to gain access to SpongePedia, account creation is currently disabled. We apologize for any inconvenience.

You are not logged in. Please log in to get the full benefit of SpongePedia.
For further questions go to SpongePedia:Contents !
Squidward Tentacles
From SpongePedia, the First SpongeBob Wiki.
Squidward Q. Tentacles
Species:
Octopus
Aliases:

Squid
Squiddy
Squidward Tent Poles/Tennis Balls/Tortellini

Address:
122 Conch Street, Bikini Bottom, Pacific Ocean
Jobs
Friends:
Rivals/enemies:
Interests:

Play the clarinet
Art
Free dance or Tap dancing
Ride a bicycle
Sunday Pedicures
Away from SpongeBob and Patrick

Favorite dish:
Ancestors:
Family:
Favorite music:
Voices:

Every Sunday Squidward must achieve community service (since "Good Neighbors")
He has no hair
He is claustrophobic (72b)

Portrayers:

Rodger Bumpass - English
Eberhard Prüter - German
Rokuro Naya - Japanese
Henry Courseaux - French

Aliases:
This page is about the character. For the appearances, click here.
Squidward Q. Tentacles is SpongeBob and Patrick's cranky neighbor. He is bald with blue-green skin, a big nose, plays the clarinet, and lives in an Easter Island head located between SpongeBob's and Patrick's residences. He works as a cashier at The Krusty Krab, a job he despises. He is voiced by Rodger Bumpass.
SpongeBob and Patrick consider Squidward their friend, but the feeling is not mutual. Squidward's main rival is Squilliam Fancyson, his former band classmate and the richest octopus in Bikini Bottom. Stephen Hillenburg has clarified that despite his name, Squidward is an octopus. The series' animators illustrated Squidward with six tentacles, believing that giving him the proper number for an octopus (eight) would make him look too burdened. Squids have ten limbs, unlike Squidward.
Personality
Attitude
He is usually portrayed to be a whiny, stick-in-the-mud character, a complete opposite to SpongeBob SquarePants. He is very egotistical and cannot stand saying sorry to anyone or admitting his mistakes. He considers himself very sophisticated and upper class, and looks down on most other people. Squidward makes jokes to himself that aren't even funny. Squidward is impatient for most of the time, egotistical and finds everything dull and trivial. However, in some episodes, it shows that Squidward has a more wild side. An example of this is in Squidville, Squidward goes to live in a town with other people who are exactly like him. However, Squidward realizes that he cannot cope with this lifestyle and is shown at the end of the episode to fly away on a reef-blower whilst laughing manically. Also, in Squid's Day Off Squidward is shown as very unstable and slightly mad in nature. Although Squidward has a generally dull and uncaring personality, he cannot keep it up constantly and turns hysterical every occasionally, much to SpongeBob's confusion. People usually make jokes about the size of his nose.
Looks
Squidward Q. Tentacles is a light green/blue color, and has purple suction cups at the end of his tentacles. He has six limbs in total, two being arms and four being legs. Whenever he walks, his suction cups stick to the floor. Squidward has a large baldhead, big droopy nose and yellow eyes with red pupils. He wears a brown short-sleeved shirt, which is sometimes nautical brown-orange. Even though his name is Squidward, he is an octopus.
Job
Squidward works as the cashier in the Krusty Krab, but he hates his job, largely because he has to work with SpongeBob. He shows no enthusiasm, although he often shares a private joke with his boss, Eugene H. Krabs, about SpongeBob. Squidward is only in his job for the paycheck, however small this may be. He dreams of being a world-famous clarinet player, but has done nothing to achieve this. Although he hates the Krusty Krab now, he used to think the Krusty Krab had class when Jim, the original fry cook was there. He and Jim had many 'Bull talks' about leaving and starting a new restaurant. Squidward played the Flying Dutchman in Scaredy Pants and his costume scared SpongeBob when Squidward said "I've come for your pickle".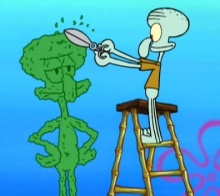 Lifestyle
Squidward loves art. He has many self-portraits of himself all around his house, but rarely paints anything else. He also plays the Clarinet, which he nicknames "Clarry". He seems to think that he is a talented clarinet player, but really, his songs are usually very out of tune. Squidward also enjoys watching television, listening to the radio, riding his bike and reading. He takes great pleasure from treating and pampering himself, although while he is relaxing, usually SpongeBob interrupts him.
Next to his dream to become a renowned clarinet player, he dreams of having hair, as he is quite sensitive about his baldness (which, due to his egotistical nature, he will not admit). However, in 'The Original Fry Cook', it is revealed that Squidward used to have flowing blond hair. While talking to Jim about life, Squidward said he might possibly lose all his beautiful hair, and when he said it, all of his hair exploded! Squidward soon spent hours trying to find even the tiniest amount of hair.
Squidward lives in an Easter Island head. Unfortunately, for him, his house is located right in between SpongeBob's pineapple and Patrick's rock. Squidward's house has been shown to have the ability to move on several occasions, including when it leans over in order to peek into Patrick's secret box. It also has been shown with two rocky arms protruding from the ground that it puts in its ears when SpongeBob and Patrick are being particularly loud. Squidward also wants to have a lifestyle of being a dancer. In Slimy Dancing, Squidward entered a dance contest but he did not get in so he cheated. He works at the Krusty Krab where SpongeBob always becomes Employee of the month in the episode, Employee of the Month. But at the end neither he nor SpongeBob became Employee of the Month.
He eats only what he likes. His favorite foods are Krabby Patties, Canned Bread, Swedish Barnacle Balls, Krusty Krab Pizza, Lemonade, Soup, Bon-Bons and soda.
Squidward's Minor Jobs
Wishes
Even he doesn't believe in wishes, but he wishes Squidward Tentacles Memorial Museum instead of Krusty Krab.
Times Squidward was nice to SpongeBob and/or Patrick
The chances of Squidward being nice to SpongeBob and/or Patrick are very rare, since they're such an annoyance to him.
Squidward's Schemes to get rid of/away from SpongeBob and/or Patrick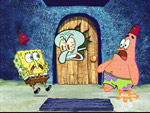 Squidward's Default
We already know that Squidward is too easy to vex and this default brings him to bad situation.
Squidward's Weaknesses
Trivia
Squidward was the moderator of "Astrology with Squidward". There are SpongeBob-Characters which represent the zodiac signs and for each sign he makes a banal prevision.
In the USA this Spin-off was published from 2000 to 2001 in the dispatcher Nickelodeon.
Squidward's name is a Portmanteau; it is composed from "Squid" and "Edward".
His nose contracts like a bagpipe whenever he laughs.
Squidward is claustrophobic. (Wishing You Well).
In the episode Professor Squidward, his middle initial is Q., while in every episode before and when said by his voice actor, Rodger Bumpass it was J. He probably has two middle names and he prefers his middle name to be Q.
The first episode to not have Squidward is Tea at the Treedom
He has appeared in more episodes than Patrick.
Like SpongeBob, Patrick, and Mr. Krabs he is ambidextrous.
In Just One Bite, he says he has no soul. And in No Hat for Pat, he says he hates everyone.
The Song Pick up a Pencil was created, sung, and written by Squidward when he went to Atlantis.
It was the first time that Squidward's art became popular in Atlantis SquarePantis
Squidward's (at first) favorite city Tentacle Acres sold Canned Bread much to his surprise.
Quotes
"Give me that!"
"Guess who just quit?" (Big Pink Loser)
"Why must every eleven minutes of my life be filled with misery? Why-hy-hy-hy?" (Club SpongeBob)
"Ouch." (Dying for Pie)
"YOU TWO DON'T DESERVE TO WEAR THOSE FEZZES!!! (Good Neighbours)
"Mr. Krabs! Mr. Krabs!! Mr. Krabs, look at you new employee. (Help Wanted)
"Does this look unsure to you?" (Just One Bite)
"I've Never Had A Krabby Patty And Never Will." (Just One Bite)
"Oh Puh-lease... I have no soul." (Just One Bite)
"I hate all of you." (Karate Choppers)
"I am really/so glad I don't eat here." (Krabs a la Mode)
"Don't listen to him Squidward, remember your karma." (crashes and explodes) (My Pretty Seahorse)
"Listen SpongeBob, I order the food. You cook the food. The customer gets the food. We do that for 40 years, and then we die. Sounds like a pretty good deal to me, what do you say?" (My Pretty Seahorse)
(Imitating Patrick) "SpongeBob, if I had a dollar for every brain you don't have, I'd have one dollar" (Naughty Nautical Neighbours)
"Oh ho! My back!" (Naughty Nautical Neighbors)
"Oh, my aching tentacles." (Pizza Delivery)
Intensive. Hmm… I bet they won't have... (he gasps and grabs a can) They have it! CANNED BREAD! (Squidville)
"I hate my job." (Spy Buddies)
"Aaaaahhhhh... Replica, Sweet, Replica!" (Squid's Visit)
"I'll bet they don't have... Wow, they have it! CANNED BREAD!!" (Squidville)
"Did you find any of Patrick's gold?" (The Battle of Bikini Bottom)
"Too bad SpongeBob's not here to enjoy SpongeBob not being here." (The SpongeBob SquarePants Movie)
"Mr Tentacles has all the Talent" (Artist Unknown)
"You can't fool me! I listen to public radio!" (The SpongeBob SquarePants Movie)
"Please tell me this isn't a joke!" (Welcome to the Chum Bucket)
SpongeBob: I'm Ready Squidward!
Squidward: Ready to move?
SpongeBob: No! Ready to Pass my Boating exam! (Boating School)
Squidward: Really? Jellyfishing with you guys? Oh, that would be the best day ever in my book. I would love to go jellyfishing! I can't think of anything I'd like to do more on my day off than go jellyfishing with my two best friends: SpongeBob and...uhh...
Patrick: Patrick. (Jellyfishing)
Squidward: I told you I am claustrophobic.
Patrick: Nice try, Squidward, but there's no Santa Claus here.
Squidward: Patrick!!!!! (Wishing You Well)
"That was my cheese. It's supposed to smell like that, kelp for brains!" (No Nose Knows)
"GET OUT!!!!!!!!!! (Toy Store of Doom)
"SpongeBob, if I didn't want an item what makes you think I would find it more appealing in here?! (Just One Bite)
"You owe me big time for this, Mr. Krabs." (Grandpappy the Pirate)
"Well it wouldn't be the first time you ruined everything." (The Clash of Triton)
Image Gallery
All Images are © Viacom