Please note: Due to constant attempts by spambots to gain access to SpongePedia, account creation is currently disabled. We apologize for any inconvenience.

You are not logged in. Please log in to get the full benefit of SpongePedia.
For further questions go to SpongePedia:Contents !
Wishing Well
From SpongePedia, the First SpongeBob Wiki.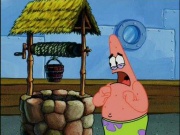 The Eugene Krabs Memorial Wishing Well was set up behind the Krusty Krab. Of course, this was only a scam by Mr. Krabs to get more money. SpongeBob had to go down into the well to collect the money. Later, SpongeBob and Patrick dug deeper to find the magic of the well. This granted wishes to Sandy, Mrs. Puff and even Plankton. It was only seen in the episode: Wishing You Well.
The well looks very similar to regular water well. It is made with stones all the way to the bottom of the well. It has a small roof made of hay and a rope that lets a wooden bucket down. Other than the stones, other bits are made of wood.
[edit]
List of Wishes
Sandy Cheeks: She wished for a telescope that was not affected by water. At the end, she acquired this telescope and spotted a full moon (Mr.Krabs butt because of the term "Mooning"). Mr. Krabs said it was probably a hallucination.
Mrs. Puff: Mrs. Puff wished for a hot rod, claiming that "I wanna be a hot rod mama". She acquired a blue hot rod that had huge exhaust pipes in the back and had fire painted on it, but Mr. Krabs said she stole it.
Sheldon J.Plankton: Plankton wished to be large enough to crush enemies. When his wish came true, he discovered he could push buildings over. However, he isn't seen as being this large in episodes aired after it. Mr. Krabs's argument with SpongeBob over magic was defeated by this wish.
Mr. Krabs: Wished he was broiled, baked, and served on a platter with cabbage and a side of butter to show SpongeBob that wishing wells didn't work. The wish came true, and he was almost consumed.
Patrick Star: He threw his cup down the Well thinking it was a magic talking trash can but after he was told it was a Wishing Well he wished to be with SpongeBob but threw himself in to discover that SpongeBob was in the Well claiming "I got my wish".
SpongeBob SquarePants: Wished Squidward were with them together with Patrick and he ACTUALLY fell in because he leaned too far ahead. He also wished Mr. Krabs back when he was almost consumed.
Squidward J.Q Tentacles: Wished that he could escape from SpongeBob and Patrick. When he left the Krusty Krab after escaping the well, a bus headed 'Very Very far away' from Bikini Bottom hit him and SpongeBob thought Squidward was actually going on a trip.
[edit]
Trivia
Though, the well is called the "Eugene Krabs Memorial Wishing Well", Mr. Krabs isn't really dead. Squidward points this out to him.
How did SpongeBob and Patrick get all those mine carts in the well during Part 2 of the song?