Please note: Due to constant attempts by spambots to get access to SpongePedia, account creation is currently disabled. We apologize for any inconvenience.

You are not logged in. Please log in to get the full benefit of SpongePedia.
For further questions go to SpongePedia:Contents !
The Oldest Living Bubble
From SpongePedia, the First SpongeBob Wiki.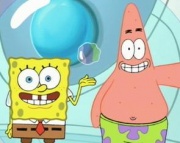 The Oldest Living Bubble was one of Atlantis' prized possessions that was brought to Atlantis millions of years ago and has not popped ever since. Its only appearance was in Atlantis SquarePantis. When SpongeBob and Patrick came to Atlantis they accidentally popped an exact replica of the bubble. As guests at dinner, Lord Royal Highness showed them the real bubble. Patrick popped it by the flash of his camera. Lord Royal Highness and the guards chased them, but forgave them after Plankton became a replacement of what Lord Royal Highness called "that dirty bubble".
[edit]
Quotes
"The oldest living bubble! Whoa..."
| | | |
| --- | --- | --- |
|   | Historic Items and Artifacts |   |