Please note: Due to constant attempts by spambots to gain access to SpongePedia, account creation is currently disabled. We apologize for any inconvenience.

You are not logged in. Please log in to get the full benefit of SpongePedia.
For further questions go to SpongePedia:Contents !
Pinch-o-Matic
From SpongePedia, the First SpongeBob Wiki.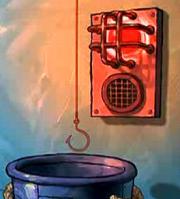 The Pinch-o-Matic is a machine in the Krusty Krab that was built by Mr. Krabs. It just appears in the episode: Born Again Krabs. If someone puts rubbish into it, Mr. Krabs runs into the kitchen to check how much money he got.
[edit]
Quotes
Pinch-o-matic: Pinch-o-matic has saved you 5.2 cents.
SpongeBob: But, Mr. Krabs, I found that under the grill.
Mr. Krabs: And tomorrow a customer will find it under his bun. (hands it to SpongeBob)
SpongeBob: But, it's old and cold and so very full of mold.
Mr Krabs: You're not to make another patty until that one is sold, understand.
| | |
| --- | --- |
| | This article is a stub. You can help the SpongePedia by expanding it. Just click edit. |