Please note: Due to constant attempts by spambots to gain access to SpongePedia, account creation is currently disabled. We apologize for any inconvenience.

You are not logged in. Please log in to get the full benefit of SpongePedia.
For further questions go to SpongePedia:Contents !
Patty Vault
From SpongePedia, the First SpongeBob Wiki.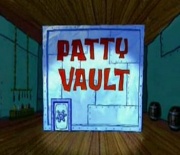 The Patty Vault is an enormous metal box that stores Krabby Patties. It first appears in Just One Bite. In that episode, most of the Krabby Patties were eaten by Squidward. The Patty Vault is also briefly seen in the episode Mermaid Man and Barnacle Boy VI: The Motion Picture, redecorated as the "Fort Lox".
The Patty Vault is a white metal box with the words PATTY VAULT in red ink. Inside the vault are thousands of Krabby Patties, all of which are eventually eaten by Squidward.
[edit]
Trivia/Goofs
It is possible that the vault exploded when Squidward exploded inside.
Originally the Patty Vault was going to be seen when Squidward opened the door, pelted with gas & fire, but that scene was deleted due to its violent nature in America only, and the patty vault is immediately seen when Squidward looks through the window, and the camera zooms in on it.
It appears in Mermaid Man and Barnacle Boy: The Motion Picture in the Mermaid Man and Barnacle Boy movie.