Please note: Due to constant attempts by spambots to gain access to SpongePedia, account creation is currently disabled. We apologize for any inconvenience.

You are not logged in. Please log in to get the full benefit of SpongePedia.
For further questions go to SpongePedia:Contents !
Little Kid
From SpongePedia, the First SpongeBob Wiki.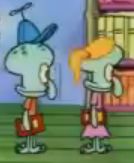 The Little Boy is a octopus who went to the Near Mint Comic Book Store to get his Mermaid Man and Barnacle Boy book signed. He also appeared in Tentacle Acres buying ice cream from a ice cream truck. He is possibly related to Squidward.
The Little Boy looks like Squidward. He has a red T-shirt and a blue beanie cap.
[edit]
Appearances