Please note: Due to constant attempts by spambots to gain access to SpongePedia, account creation is currently disabled. We apologize for any inconvenience.

You are not logged in. Please log in to get the full benefit of SpongePedia.
For further questions go to SpongePedia:Contents !
Lion Fish
From SpongePedia, the First SpongeBob Wiki.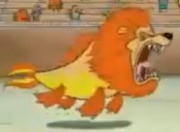 The Lion Fish was shown in the episode Spongicus. It scares people at the Krusty Krab in the end if they don't pay money.
The Lion fish looks like a lion with a body of a fish.
[edit]
Attitude
The Lion Fish is very angry and scares people. It can be tamed by throwing sausages to it.