Please note: Due to constant attempts by spambots to gain access to SpongePedia, account creation is currently disabled. We apologize for any inconvenience.

You are not logged in. Please log in to get the full benefit of SpongePedia.
For further questions go to SpongePedia:Contents !
Gorilla
From SpongePedia, the First SpongeBob Wiki.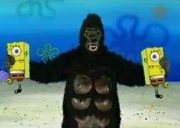 Gorilla is the Gorilla that appeared in the episode I Had an Accident and Friend or Foe? He stuffed Patrick and Sandy into a bag, and smacked them on the ground and stomped on them, which made SpongeBob finally go outside. He also hangs out with George the Zebra, and they most likely are friends, who he jumped onto and ran away on, when SpongeBob, Sandy, and Patrick wondered what a gorilla was doing underwater. The Gorilla also appeared on episode Friend or Foe? on the Patchy segment, as Patchy's replacement. He is played by Paul Tibbitt in a gorilla costume, but is voiced by Frank Welker
The Gorilla was very big and black like a real gorilla. He is fluffy and fuzzy.
---
[edit]
Quotes
"George they're on to us!"*
"Oh...well...um...it's funny you should mention..."*
"Hey Sandy. Who's your friend?"* (when the gorilla was disguised as Patrick)
*These were the only quotes said by the gorilla
[edit]
Appearances