Please note: Due to constant attempts by spambots to gain access to SpongePedia, account creation is currently disabled. We apologize for any inconvenience.

You are not logged in. Please log in to get the full benefit of SpongePedia.
For further questions go to SpongePedia:Contents !
Endwight Keywad
From SpongePedia, the First SpongeBob Wiki.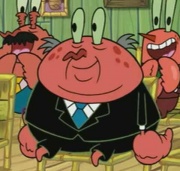 Endwight Keywad is a crab. He just appears in the episode Kracked Krabs he is a member of the Penny Pinchers. He tries to win the Price of the Penny Pinchers and beat Mr. Krabs, Fancy McGee and Huford BargainBottom. At the end of the episode he doesn't win the price, Mr. Krabs does. The reason why Endwight is a member of the Penny Pinchers is because he collects old paper bits and knots them onto toilet paper to save paper.
Endwight Keywad – is like every crabs - red. He is a bit older than the other crabs' in the Penny Pinchers club, because he has grey hair and wears a black suit and a white shirt with a blue tie.
[edit]
Quotes
Judge: Endwight Keywad in: "Tying Up Loose Ends!"
(Video shows Endwight tying used toilet paper to a roll of new toilet paper. Applause)