Please note: Due to constant attempts by spambots to gain access to SpongePedia, account creation is currently disabled. We apologize for any inconvenience.

You are not logged in. Please log in to get the full benefit of SpongePedia.
For further questions go to SpongePedia:Contents !
Davy Jones' Locker
From SpongePedia, the First SpongeBob Wiki.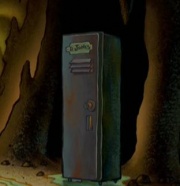 Davy Jones' Locker is an idiom for the bottom of the sea - the resting place of drowned sailors such as the one and only Davy Jones. In the episode: Born Again Krabs, The Flying Dutchman shows up to take Mr. Krabs to the resting place of Davy Jones' Locker. Davy Jones' Locker is very filthy, smells very bad and it is filled with many used gym socks because Davy Jones works out a lot.
Episodes Seen
Trivia
| | | |
| --- | --- | --- |
|   | Historic Items and Artifacts |   |