Please note: Due to constant attempts by spambots to gain access to SpongePedia, account creation is currently disabled. We apologize for any inconvenience.

You are not logged in. Please log in to get the full benefit of SpongePedia.
For further questions go to SpongePedia:Contents !
DJ System
From SpongePedia, the First SpongeBob Wiki.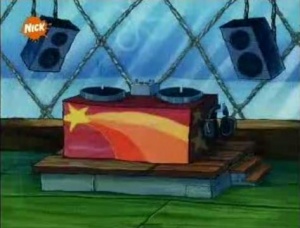 The DJ System just appears in the Episode: New Leaf. It is in the Krusty Krab. Mr. Krabs uses this DJ System when he thinks that Plankton gave up stealing the Krabby Patty. Mr. Krabs, SpongeBob, and Squidward dance to the music, though Squidward first didn't want to, but was forced by Mr. Krabs.
SpongeBob was the only DJ to use the system.
The DJ System looks like a huge red and yellow box. It has a small star on it.
[edit]
Quotes
SpongeBob: That's some good news, Mr. Krabs.
Mr. Krabs: It sure is, you little half-wit. And you know what else is good news? We can finally use that DJ system. Hit it, SpongeBob.
SpongeBob: Right away, sir.
Mr. Krabs: Let's party! (music plays) Ow! I won! It's time to boogie. Yeah, yeah, yeah, yeah, yeah!
Squidward: This is idiotic.
Mr. Krabs: Dance or you're fired.
Squidward: You got it, Mr. Krabs. (dances)
Mr. Krabs: (opens front door) How do you like them apples, you little... (record scratching)