Please note: Due to constant attempts by spambots to gain access to SpongePedia, account creation is currently disabled. We apologize for any inconvenience.

You are not logged in. Please log in to get the full benefit of SpongePedia.
For further questions go to SpongePedia:Contents !
Victoria Ellen
From SpongePedia, the First SpongeBob Wiki.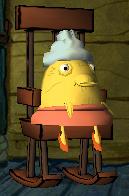 Victoria Ellen (or just Mrs. Ellen) is a tenant staying in Hotel Deep Six featured in the movie PC Game.
She looks very similar to the Old Lady from Lights, Camera, Pants! (PC version).
[edit]
Appearance
Her pearls were stolen from the oyster at Hotel Deep Six and she was very worried. SpongeBob and Patrick found them for her and she gave them the orb they needed to cross the abyssal plains.
Video Game Characters (exclusive)
| | |
| --- | --- |
| | This article is a stub. You can help the SpongePedia by expanding it. Just click edit. |