Please note: Due to constant attempts by spambots to gain access to SpongePedia, account creation is currently disabled. We apologize for any inconvenience.

You are not logged in. Please log in to get the full benefit of SpongePedia.
For further questions go to SpongePedia:Contents !
Steven Banks
From SpongePedia, the First SpongeBob Wiki.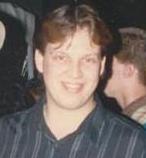 Steven Banks is an American musician, comedian, actor, and writer of television cartoons, including SpongeBob SquarePants and The Fairly OddParents. He is the Head Writer from the year 2004-present.
Episodes He Wrote: