Please note: Due to constant attempts by spambots to gain access to SpongePedia, account creation is currently disabled. We apologize for any inconvenience.

You are not logged in. Please log in to get the full benefit of SpongePedia.
For further questions go to SpongePedia:Contents !
Rex
From SpongePedia, the First SpongeBob Wiki.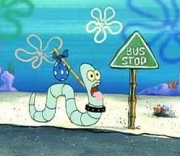 Rex is a pet worm that SpongeBob brings home after Gary abandoned SpongeBob for Patrick as seen in the episode Dumped.
SpongeBob soon discovers that Rex is not such a good pet after all. Rex ignores all of the tricks that SpongeBob tries to teach him, although he appears to obey the order to "stay". SpongeBob gives him a lot of praise but he appears to take no notice. When SpongeBob starts saying loudly (in Gary and Patrick's earshot) how good Rex is ("So loyal! So Trusting! Always by my side!") Rex is immediately after seen waiting at a bus stop and then boards the next bus and leaves SpongeBob. Rex is the same species as Mr. Doodles. He is voiced by Bill Fagerbakke.
Rex has two yellow eyes; his whole body is light blue, with black lines (which worms have).