Please note: Due to constant attempts by spambots to get access to SpongePedia, account creation is currently disabled. We apologize for any inconvenience.

You are not logged in. Please log in to get the full benefit of SpongePedia.
For further questions go to SpongePedia:Contents !
Bill Fagerbakke
From SpongePedia, the First SpongeBob Wiki.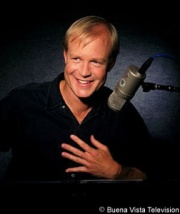 Bill Fagerbakke (born October 4, 1957 in Fontana, California) is an American actor who provides the voice of Patrick. Outside of SpongeBob SquarePants, Bill Fagerbakke played football and appeared on television in such roles as Assistant Coach "Dauber" Dybinski on Coach, in movies, including Funny Farm, and several on-and-off Broadway stage shows. In 1989, he married Catherine McClenahan, and they have two daughters Hannah (* 1991) and Carson (* 1994).
[edit]
External Links