Please note: Due to constant attempts by spambots to gain access to SpongePedia, account creation is currently disabled. We apologize for any inconvenience.

You are not logged in. Please log in to get the full benefit of SpongePedia.
For further questions go to SpongePedia:Contents !
Recreation Center
From SpongePedia, the First SpongeBob Wiki.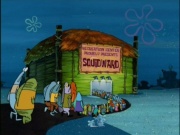 The Recreation Center appears in many episodes, especially in Squidward based episodes. Squidward goes there along with many other fishes with talent. SpongeBob and Patrick went there in Slimy Dancing. It is a place where people go to entertain. Squidward went there on the episode Best Day Ever, and performed his music recital. Also, to perform Best Day Ever.
In Sponge-Cano! the place had a sign saying it was a Volcano Shelter. It has been home to many plays and shows.
| | |
| --- | --- |
| | This article is a stub. You can help the SpongePedia by expanding it. Just click edit. |
| | | |
| --- | --- | --- |
|   | Shops, Malls and Amusement Parks |   |