Please note: Due to constant attempts by spambots to get access to SpongePedia, account creation is currently disabled. We apologize for any inconvenience.

You are not logged in. Please log in to get the full benefit of SpongePedia.
For further questions go to SpongePedia:Contents !
Cook It n' Book It
From SpongePedia, the First SpongeBob Wiki.
(Difference between revisions)
 

Line 1:
Line 1:
−

It doesn't matter. Listen kid you don't want to see my other side. I have a wolf inside me with a muzzle on, but the muzzle is about to come off. You broke her heart, and I will break yours. She is a nice girl, how dare you use her like this. How come people like you get to date her? Then people like me have to sit in the shadows and be the shoulders to cry on. Listen Kid, I don't have time for  games. I am a nice guy, but when you make a nice guy angry; the world shakes. Don't do it again.

+

It.'

 
+

on the . , a . to the and 't . , a the . .

 
 
−

... You will regret this the next FULL MOON. You mess with me you mess with the pack bud. Get ready.

+
 
+
 
+
 
+

 

 
+

 

 
+
---
Latest revision as of 02:18, 20 March 2020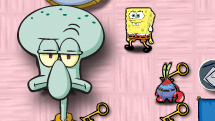 Cook It n' Book It is an online SpongeBob game that is based on the episode: Squid's Visit. In this game, Squidward has to find keys to open a door to get his vacuum cleaner. The player has to watch out that Squidward gets the keys in time and doesn't run into SpongeBob, Gary, Patrick, Mr. Krabs, or even a fish person that appears in later levels. There are also many doors in each level, and only one door accesses into the next levels. All others spill stuff on the floor, wasting precious time.
| | |
| --- | --- |
| | This article is a stub. You can help the SpongePedia by expanding it. Just click edit. |