Please note: Due to constant attempts by spambots to gain access to SpongePedia, account creation is currently disabled. We apologize for any inconvenience.

You are not logged in. Please log in to get the full benefit of SpongePedia.
For further questions go to SpongePedia:Contents !
Snail-Po
From SpongePedia, the First SpongeBob Wiki.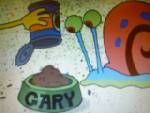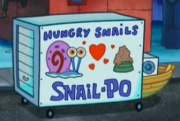 Snail-Po is a brand of Snail Food.
[edit]
Popularity
Snail-Po is used to feed the snails of Bikini Bottom, but most snails don't seem to enjoy the food, including Gary the Snail, as seen in the episode: Have You Seen This Snail?. Gary would much rather eat cookies and deviled eggs, and the comic in the Nick Magazine All-Animal Special, where he wants only the finest foods possible. It has an awful taste according to SpongeBob as his entire body wrinkled in disgust. SpongeBob is possibly the first person in Bikini Bottom to eat the Snail-Po. The Snail-Po was first mentioned in Missing Identity.SpongeBob makes own version in "SpongeBob Your Fired".
[edit]
Headquarters
There is a Snail-Po headquarters where people make it, as seen in the episode: Missing Identity. It is located somewhere in downtown Bikini Bottom, and look like most big corporate companies. We already find out from that episode that one of the people's names is Peterson, most likely the guy in charge. The headquarters heard SpongeBob when his yell of disgust upon tasting the Snail-Po reached them. The headquarters is a property in Monopoly: SpongeBob Edition.
[edit]
People making it
[edit]
Trivia
A snail that looks very similar to Gary is on the Snail-Po truck.
SpongeBob makes his own Snail-Po in SpongeBob You're Fired.
A Star Wars joke is referenced when Peterson claims he felt "A Disturbance"