Please note: Due to constant attempts by spambots to gain access to SpongePedia, account creation is currently disabled. We apologize for any inconvenience.

You are not logged in. Please log in to get the full benefit of SpongePedia.
For further questions go to SpongePedia:Contents !
Sandwich
From SpongePedia, the First SpongeBob Wiki.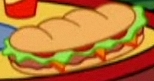 A Sandwich just appears in the episode I ♥ Dancing. SpongeBob dances in the Krusty Krab with a tray full of Krabby Patties and throws them through the air, which land on the tables of the customers. Billy gets a drink, Nachos, a sandwich, a pizza, and a knight instead.
[edit]
Making
A sandwich can be made with lettuce, tomatoes, pickles, pepperoni, onions, cheese, or other things. On top, there is a kind of sauce.