Please note: Due to constant attempts by spambots to gain access to SpongePedia, account creation is currently disabled. We apologize for any inconvenience.

You are not logged in. Please log in to get the full benefit of SpongePedia.
For further questions go to SpongePedia:Contents !
Painty
From SpongePedia, the First SpongeBob Wiki.
(Difference between revisions)
---
Revision as of 04:18, 4 November 2019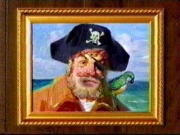 Painty the Pirate is a painting of a pirate head with a parrot. He sings the SpongeBob SquarePants theme song during the introduction in every episode. He also appears in the episodes "Your Shoe's Untied" and "Wet Painters". He is voiced by Patrick Pinney. The only episode when his mouth looks different is Your Shoe's Untied
Quotes
Are ya ready kids? [intro]
Trivia
In the Intro to Christmas Who? and It's a SpongeBob Christmas!, he had a wreath.
Painty sings the SpongeBob theme song regularly on every single episode.
He also appears in a commercial citing that there will be brand new episodes of SpongeBob, and he sings an alternate version of the theme song with different lyrics about the new premieres.
In Truth or Square, He also sang the 'rejected' theme songs for Squidward, Mr. Krabs, and Patrick.