Please note: Due to constant attempts by spambots to gain access to SpongePedia, account creation is currently disabled. We apologize for any inconvenience.

You are not logged in. Please log in to get the full benefit of SpongePedia.
For further questions go to SpongePedia:Contents !
Mollusks
From SpongePedia, the First SpongeBob Wiki.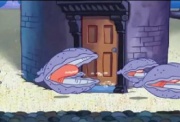 The Mollusks are a animal featured in Pest of the West.
The Mollusks look like giant clams, but chase you instead of staying in their habitat.
[edit]
Appearance
Patrick's Ancestor tried to warn Early Bikini Bottom that the Mollusks were coming, but they didn't believe him. The Mollusks went past Ye Olde Shoppe and some other people.
[edit]
Trivia/Goofs
It is unknown if they are still in Bikini Bottom, or will ever return.
its name was a phythom of it because clams are mollusk, not chorodata,wile outher bikini bottomites are chordata.
Mollusks on this episode are clams while Mollusks are more of snail type creatures.
| | |
| --- | --- |
| | This article is a stub. You can help the SpongePedia by expanding it. Just click edit. |