Please note: Due to constant attempts by spambots to gain access to SpongePedia, account creation is currently disabled. We apologize for any inconvenience.

You are not logged in. Please log in to get the full benefit of SpongePedia.
For further questions go to SpongePedia:Contents !
Gary's Revenge
From SpongePedia, the First SpongeBob Wiki.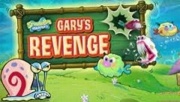 Gary's Revenge is a game that is featured on SpongeBob.com. You control Gary and he must shoot Puffy Fluffies with shells.
[edit]
Trivia
This game is based off of the famous game: Angry Birds.
| | |
| --- | --- |
| | This article is a stub. You can help the SpongePedia by expanding it. Just click edit. |